MODU Scooter Board - Platforma na Kółkach

    {"2023-01-02":{"price_formatted":"z\u0142230.00","price":"230.000000","price_tax_included":"230.000000","price_tax_excluded":"186.991870","date_add":"02.01.2023","lowest":true},"2023-01-03":{"price_formatted":"z\u0142230.00","price":"230.000000","price_tax_included":"230.000000","price_tax_excluded":"186.991870","date_add":"03.01.2023","lowest":false},"2023-01-04":{"price_formatted":"z\u0142289.00","price":"289.000000","price_tax_included":"289.000000","price_tax_excluded":"234.959350","date_add":"04.01.2023","lowest":false},"2023-01-05":{"price_formatted":"z\u0142289.00","price":"289.000000","price_tax_included":"289.000000","price_tax_excluded":"234.959350","date_add":"05.01.2023","lowest":false},"2023-01-06":{"price_formatted":"z\u0142289.00","price":"289.000000","price_tax_included":"289.000000","price_tax_excluded":"234.959350","date_add":"06.01.2023","lowest":false},"2023-01-07":{"price_formatted":"z\u0142289.00","price":"289.000000","price_tax_included":"289.000000","price_tax_excluded":"234.959350","date_add":"07.01.2023","lowest":false},"2023-01-08":{"price_formatted":"z\u0142289.00","price":"289.000000","price_tax_included":"289.000000","price_tax_excluded":"234.959350","date_add":"08.01.2023","lowest":false},"2023-01-09":{"price_formatted":"z\u0142289.00","price":"289.000000","price_tax_included":"289.000000","price_tax_excluded":"234.959350","date_add":"09.01.2023","lowest":false},"2023-01-10":{"price_formatted":"z\u0142289.00","price":"289.000000","price_tax_included":"289.000000","price_tax_excluded":"234.959350","date_add":"10.01.2023","lowest":false},"2023-01-11":{"price_formatted":"z\u0142289.00","price":"289.000000","price_tax_included":"289.000000","price_tax_excluded":"234.959350","date_add":"11.01.2023","lowest":false},"2023-01-12":{"price_formatted":"z\u0142289.00","price":"289.000000","price_tax_included":"289.000000","price_tax_excluded":"234.959350","date_add":"12.01.2023","lowest":false},"2023-01-13":{"price_formatted":"z\u0142289.00","price":"289.000000","price_tax_included":"289.000000","price_tax_excluded":"234.959350","date_add":"13.01.2023","lowest":false},"2023-01-14":{"price_formatted":"z\u0142289.00","price":"289.000000","price_tax_included":"289.000000","price_tax_excluded":"234.959350","date_add":"14.01.2023","lowest":false},"2023-01-15":{"price_formatted":"z\u0142289.00","price":"289.000000","price_tax_included":"289.000000","price_tax_excluded":"234.959350","date_add":"15.01.2023","lowest":false},"2023-01-16":{"price_formatted":"z\u0142289.00","price":"289.000000","price_tax_included":"289.000000","price_tax_excluded":"234.959350","date_add":"16.01.2023","lowest":false},"2023-01-17":{"price_formatted":"z\u0142289.00","price":"289.000000","price_tax_included":"289.000000","price_tax_excluded":"234.959350","date_add":"17.01.2023","lowest":false},"2023-01-18":{"price_formatted":"z\u0142289.00","price":"289.000000","price_tax_included":"289.000000","price_tax_excluded":"234.959350","date_add":"18.01.2023","lowest":false},"2023-01-19":{"price_formatted":"z\u0142289.00","price":"289.000000","price_tax_included":"289.000000","price_tax_excluded":"234.959350","date_add":"19.01.2023","lowest":false},"2023-01-20":{"price_formatted":"z\u0142289.00","price":"289.000000","price_tax_included":"289.000000","price_tax_excluded":"234.959350","date_add":"20.01.2023","lowest":false},"2023-01-21":{"price_formatted":"z\u0142289.00","price":"289.000000","price_tax_included":"289.000000","price_tax_excluded":"234.959350","date_add":"21.01.2023","lowest":false},"2023-01-22":{"price_formatted":"z\u0142289.00","price":"289.000000","price_tax_included":"289.000000","price_tax_excluded":"234.959350","date_add":"22.01.2023","lowest":false},"2023-01-23":{"price_formatted":"z\u0142289.00","price":"289.000000","price_tax_included":"289.000000","price_tax_excluded":"234.959350","date_add":"23.01.2023","lowest":false},"2023-01-24":{"price_formatted":"z\u0142289.00","price":"289.000000","price_tax_included":"289.000000","price_tax_excluded":"234.959350","date_add":"24.01.2023","lowest":false},"2023-01-25":{"price_formatted":"z\u0142289.00","price":"289.000000","price_tax_included":"289.000000","price_tax_excluded":"234.959350","date_add":"25.01.2023","lowest":false},"2023-01-26":{"price_formatted":"z\u0142289.00","price":"289.000000","price_tax_included":"289.000000","price_tax_excluded":"234.959350","date_add":"26.01.2023","lowest":false},"2023-01-27":{"price_formatted":"z\u0142289.00","price":"289.000000","price_tax_included":"289.000000","price_tax_excluded":"234.959350","date_add":"27.01.2023","lowest":false},"2023-01-28":{"price_formatted":"z\u0142289.00","price":"289.000000","price_tax_included":"289.000000","price_tax_excluded":"234.959350","date_add":"28.01.2023","lowest":false},"2023-01-29":{"price_formatted":"z\u0142289.00","price":"289.000000","price_tax_included":"289.000000","price_tax_excluded":"234.959350","date_add":"29.01.2023","lowest":false},"2023-01-30":{"price_formatted":"z\u0142289.00","price":"289.000000","price_tax_included":"289.000000","price_tax_excluded":"234.959350","date_add":"30.01.2023","lowest":false}}
  
The lowest price of the product zł230.00 in day 02.01.2023
Lowest price in the period of 30 days before current promotion: zł230.00
Variants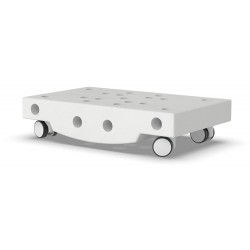 zł289.00
We send in 3 days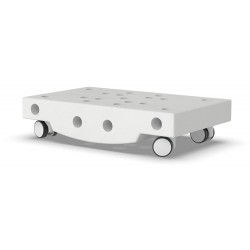 zł289.00
We send in 3 days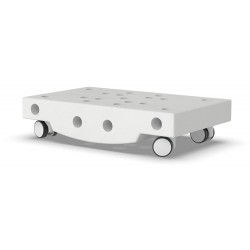 zł289.00
Brak na stanie

MODU Scooter Board - Platforma na Kółkach

MODU Scooter Board do ćwiczeń i terapii sensorycznej
MODU to wyjątkowa zabawka, która nie tylko pobudza chęć do aktywnej zabawy ale także zachęca do budowania własnych dzieł. Bloki konstrukcyjne z pianki EVA zapewniają niekończącą się zabawę dzieciom w każdym wieku. Są doskonałym narzędziem do ćwiczeń i terapii integracji sensorycznej. W przypadku tej zabawki ogranicza nas tylko wyobraźnia.  Najnowszy dodatek do zestawów MODU – Scooter Board– nadaje zabawie z MODU nowy wymiar. To prosta, ale wielofunkcyjna zabawka pobudzająca rozwój motoryki i wyobraźni niemowląt i starszych dzieci. Położenie malucha na platformie na kółkach, którą rodzic może poruszać, urozmaici czas spędzony na brzuszku. Po odłączeniu kółek, Scooter Board zamienia się w deskę do bujania. Delikatne ruchy i stymulacja zmysłów wywołują uśmiech na twarzy malucha, a to dopiero początek zabawy! Kiedy dziecko podrośnie, może korzystać ze swobody poruszania się, samodzielnie kręcąc się niej. Po odpięciu kółek, Scooter Board stanie się natomiast deską równoważną, dając mnóstwo frajdy mały surferom. Połączenie jej z innymi elementami klocków MODU, pozwala tworzyć konstrukcje, których nie ogranicza nic, poza fantazją dziecka.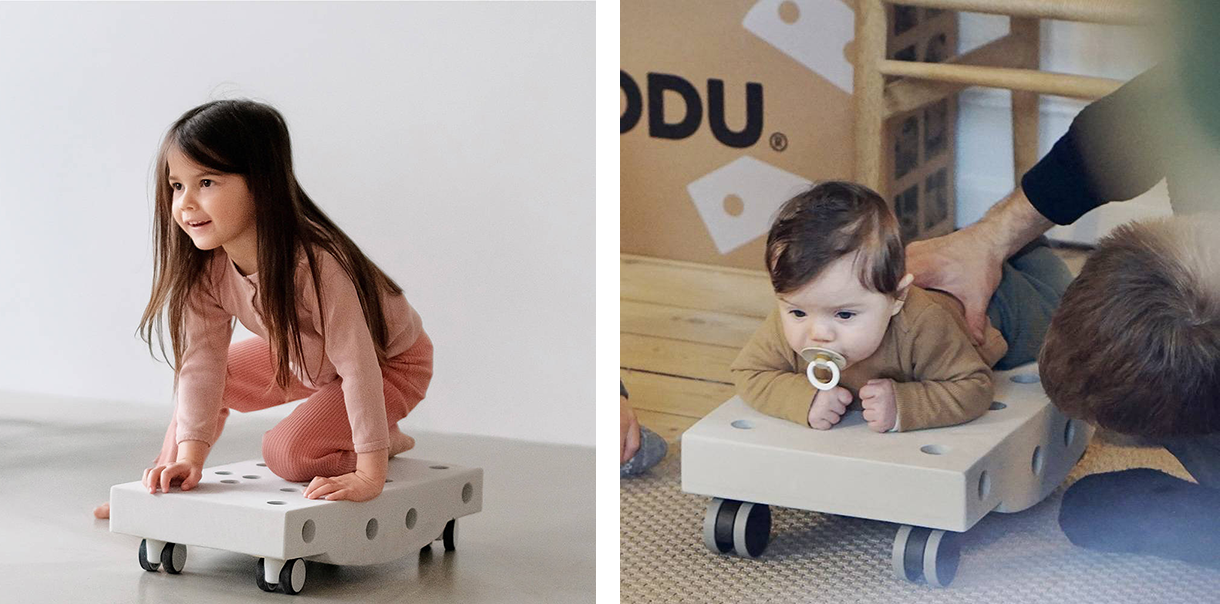 Wielokrotnie nagradzane
Klocki MODU zdobyły prestiżową nagrodę RedDot 2019, nagrodę targów Kind + Jugend 2019, wyróżnienie Danish Design Award 2019 oraz nagrodę Zabawka Roku 2020.

Zestaw zawiera
4 kółka,
1 blok piankowy.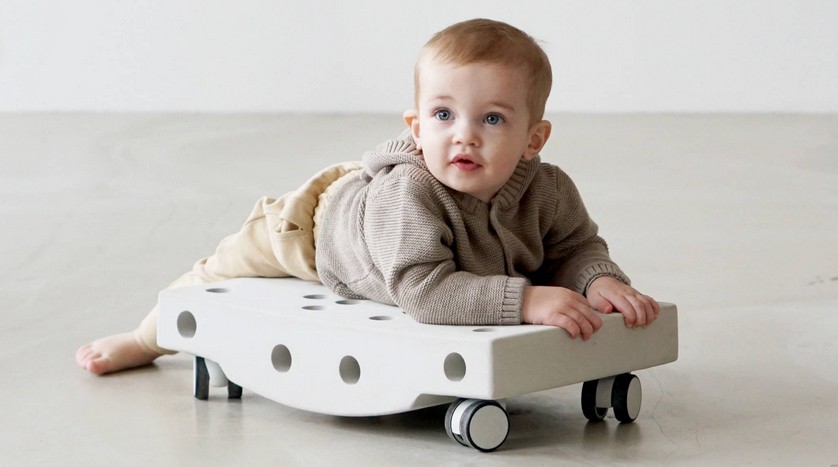 MODU Scooter Board od 3 miesięcy do 4 roku życia
MODU Scooter Board to zabawka odpowiednia dla dzieci w wieku od 3 miesięcy do 4 roku życia. Materiał: Pianka EVA i ABS dopuszczony do kontaktu z żywnością  Pielęgnacja: wycierać wilgotną tkaniną, można myć w zmywarce.